IN ADORATION OF KAROLINA LASKOWSKA
GOTHIC DETAILS AND ORNATE OPULENCE WITH THE BEST OF TRADITIONAL CORSETRY AND COUTURE LINGERIE
IN ADORATION OF KAROLINA LASKOWSKA
GOTHIC DETAILS AND ORNATE OPULENCE WITH THE BEST OF TRADITIONAL CORSETRY AND COUTURE LINGERIE
A DARK, SENSUAL OPULENCE AND PAINSTAKING COUTURE CONSTRUCTION
We have seen an abundance of beautiful lingerie in our time, and Karolina Laskowska designs to the zenith. Crafting small-batch, limited edition collections from rare and unusual materials, this UK Lingerie Award winner for "Best New Designer" is known for her awe-inspiring craftmanship.
Karolina's exclusive, custom designed pieces for Jane's Vanity are true collector's items, each crafted entirely by her own two hands. We adore Karolina Laskowska.
Karolina has spent a lifetime crafting handmade goods, from greeting cards to jewelry, but when she discovered lingerie it was love at first sight. Dubbed a prodigy by industry experts including Cora Harrington of The Lingerie Addict, Karolina founded her namesake company in 2012 at the age of 19.
---
Fabrics are crucial to Karolina Laskowska —they are her brand. This passion for textiles sets her aside from other designers and it's apparent in her focus on exquisite lace, beaded embroidery, and fine skills. Karolina often buys up excess fabric or "deadstock" and every scrap goes into something. These practices result in limited edition pieces created with precision and care.
---
LEARNING THE PAST, FORMING THE FUTURE

Born from Karolina's desire to share her love of underwear with the world and to provide an invaluable study resource on the topic, she helped found the Underpinnings Museum.
Rarely given the attention it deserves, lingerie historically is an important part of women's changing role in society. The Underpinnings Museum is an online museum that flaunts radical innovation by showcasing and documenting exquisite objects dedicated to underwear's evolution through the ages.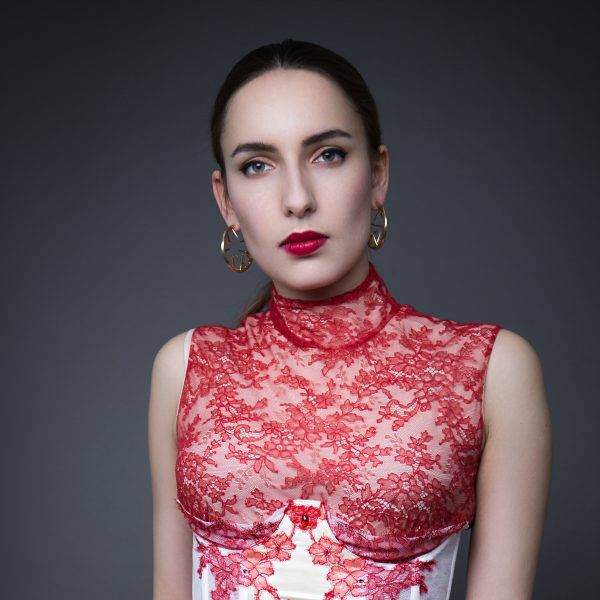 ---
Studying the history of lingerie, vintage pieces, and modern design techniques, Karolina Laskowska graduated with first-class honors at De Montfort University with a BA in Contour Fashion. Soon after graduation, she has won numerous awards for her design work, including prestigious "Best New Designer" award at the 2014 UK Lingerie Awards.