IN ADORATION OF TARYN WINTERS
SENSUOUS, SHEER GRACE THAT CURVES TO THE FEMININE FORM AND ENHANCES ITS NATURAL BEAUTY
IN ADORATION OF TARYN WINTERS
SENSUOUS, SHEER GRADE THAT CURVES TO THE FEMININE FORM AND ENHANCES ITS NATURAL BEAUTY
AIRY COUTURE, HAND-CRAFTED TO CONFORM TO NATURAL MOVEMENT AND FORM
Taryn Winter's designs are expressions of self-love. Her lace selections are very delicate and strong, allowing the wearer an extraordinary range of motion which imbues a natural confidence.

Taryn Winter's lingerie makes the wearer's shape the center of attention, bolstered by designs that are as fluid as their own body.
Taryn's deisgns are a tribute to the performing arts. Hand beading on the fine French lace is reminiscent of the headpieces and jewel-encrusted bodices found in classical ballet. Foundational pieces for everyday wear are practical and comfortable, yet as feminine and stylish as the leotards worn by ballerinas. Taryn's classical training in dance encourages individuality and personal expression through movment, which informs her lingerie's aestherics and foundation.
---
As a baller dancer in her youth, Taryn Winters saw costumes that sparked her passion for design. Her fascination with forms and lines in dance performances inspired her lingerie line. Her lingerie makes the wearer feel good about their body and encourages them to love their raw beauty, exactly as it is.
---
"Dance is a movement that everyone can understand and love." It is the raw passion within dancing that makes its expression riveting. Costumes enhance the performance and shouldn't distract the audience. Taryn Winters applies this same logic to her lingerie. It should entrance the onlooker, making them captivated with the wearer's beautiful, liquid movements. It should not mask their natural shape. Taryn's lingerie encourages grace, freedom, and elegance by focusing on simple forms. The body is in the spotlight, with lingerie acting as accoutrement to make the wearer feel and appear even more irresistible.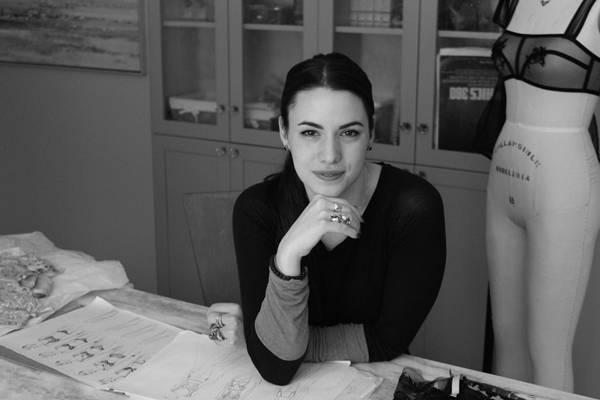 ---
Taryn likens a woman's body to a dance performance, and thus decided that lingerie pieces should be designed to move with a woman's unique frame. A rising star in the industry, she has been passionate about creating beautiful, fitted designs since she was a child. Growing up in New York in the world of ballet, Taryn Winters observed the feminine form and how costumes moved fluidly with the performing artist. Her designs make the wearer feel beautiful in their own silk and what is more seductive than confidence? After gradutation from the Fashion Institute of Technology in New York, Taryn attracted a large cult following mesmerized by her exquisitely feminine, embroidered Italian tulle and chantilly lace designs.
"My first memory of fashion is actually a costume from the ballet studio I attended as a child. The tutu for the Spanish dance in The Nutcracker was the most beautiful, intricate, red and black costume covered in embroidery, beading, tulle and lace. I just thought, 'If only I could wear that.'"
– Taryn Winters
---
WHERE YOU'VE SEEN TARYN WINTERS