IN ADORATION OF
STUDIO PIA
RICH COLORS AND ENTICING EMBROIDERIES WITH EXQUISITE CONSTRUCTION
IN ADORATION OF
STUDIO PIA
RICH COLORS AND ENTICING EMBROIDERIES WITH EXQUISITE CONSTRUCTION
INTRICATE CONSTRUCTION, PLAYFUL EXECUTION
Dorothy Parker once quipped that "brevity is the soul of lingerie" and Studio Pia's sultry style certainly proves her point. Bespoke embroidered tulle, playful bodysuits, the strappiest of thongs: each piece in Studio Pia's mixable collections is exquisitely constructed with ethical fabrics, sustainable practices, and a twinkle of provocative mischief that makes our hearts dance.

We adore Studio Pia, you should too.
---
The passion for sustainability does not end with construction. Those adjustable straps not only add interest and intricacy; they sculpt, support and ensure the perfect fit, all the way down. Each garment is uniquely styled to provide adjustability, allowing for a personalized fit that accommodates size fluctuations and ultimately prolongs the life of the garment.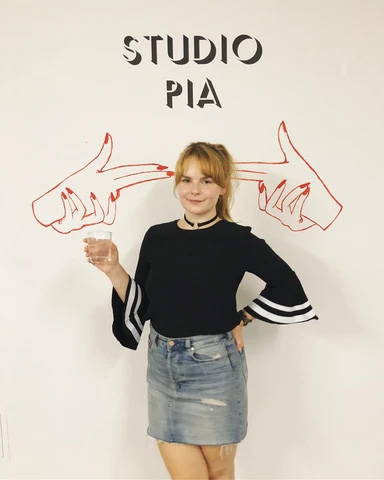 ---
With her first Studio Pia collection in 2017, Pia Harpur Conaghan boldly developed a vision of lingerie that is luxurious, as well as sustainably and ethically constructed. Collections are meant to be mixed and matched, and draw inspiration from sources as varied as a botanical book she paged through as a child, artwork ranging from whimsical to diabolic, even the separates she designed for her own bridal attire. After almost a decade working with other lingerie brands, her pieces are infused with a signature delicacy, luxury, and celebration of the feminine.